Our daily use of social media tells a story about us: our interests and social tracks done in both private and public modes.
When Roialty creates a Facebook digital audience, we can start from public interactions, because we don't need any privacy permissions to look on footprints completed on public fan pages.
We can pinpoint where people interact and which contents they prefer by analyzing information they disclose about themselves.
This is just a small part of social profiling and people everywhere are constantly invited to accept privacy agreements in order to access apps, gamification initiatives and newsletters. Each of these social sign-up tools collect detailed information about the user for the application owners.
How can this collection of data be interpreted? Roialty developed a Social DNA app, that classifies interactions and interests into a list of categories, and also provides a cross classification of brands, media and VIP. These same organizations are being incorporated into Roialty's OneTarget Product as well. Figure 1 demonstrates Sara Antoni's Social DNA.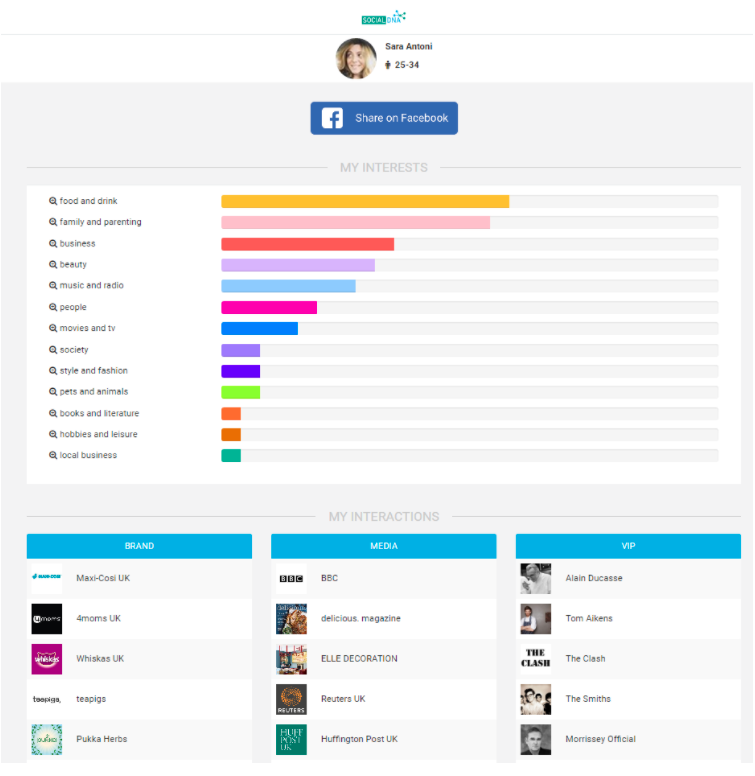 Figure 1. Sara Antoni's Social DNA
This tool can test how your social profiling could be interpreted by an application owner when analyzing a digital audience. For example, it could identify if you're a lover of healthy food, or presume you have children because a significant amount of your likes relate to pages specialized in family and parenting. Each category can be expanded, as you can see from Figure 2.

Figure 2. Expansion of Sara Antoni's Food and Drink Interests.
Now, let's take a look at what our Social DNA app discovers about your social profiling, because a user is just a small piece of the whole digital audience layout.
Discover how deep Roialty can go in social profiling by testing your profile on Roialty's Social DNA! Please also feel free to contact us if you would like Roialty to perform this same analysis on a set of people participating in one of your social initiatives.