In recent years there has been an extraordinary growth of social outlets on the web and these new proliferation of information sources have forced journalism to dramatically change and reshape in order to conform to this new digital era.
Taking advantage of social data is crucial for newspaper agencies in today's economy!  Social data determines which content  their users are engaging with the most and this ultimately leads to more brand loyal readers.
Press media (newspaper) and journalist are aware of this social behavioral shift. The 2017 Perugia International Journalism Festival it's just ended and it was mainly focused on the integration between the web, technology and journalism.
The main sponsor of these events were Facebook and Google. This is a strong sign that even tech companies are interested in the journalism world! There were a lot of workshops implementing the use of social media to better understand their audiences and provide insight into which content engages the most users (e.g. http://www.journalismfestival.com/programme/2017/engagement-strategies-for-facebook)
Luckily for press media agencies, Roialty's OneTarget Product has all the functionalities to easily study and analyze for instance a reader's interests or influencers coming from multiple web sources like Facebook or Twitter, and we're able to develop a strategy that matches with user's preferences. This can be done by posting different content depending on whether the readers belong to Facebook or Twitter.
The idea of this article is to provide a brief case use of how OneTarget can be employed by a newspaper so they can post valuable content according to their target audience. In this tutorial we extracted a sample audience from the Corriere della Sera official twitter account, and compared their readers behaviors to a standard twitter population.
Let's begin by discovering the age and gender distribution of Corriere's readers. Figure 1 compares them to the average twitter population, and as you can see a large majority of the readers are young adults.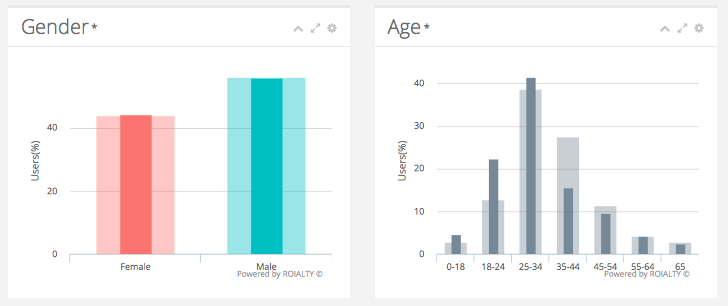 Figura  Age and Gender distribution that compares the two audiences
To ensure our article reaches the most people in our target audience, we should make sure our content is ideal for the younger generation. OneTarget is able to apply a wide range of audience filters in order to primarily focus our attention on the younger readers (i.e those under the age of 35).
The real question is which topics need to be addressed in order to capture the attention of this younger generation? The answer presents itself when we dig deeper into the user's' interests.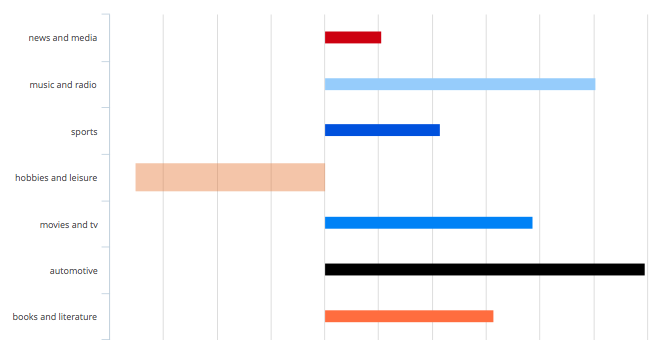 Figure 2: The users  interests compared in delta mode
Figure 2 above lists the top interests of the readers in delta mode. The delta mode takes the difference between the main audience "preferences" compared to the average twitter user to see the differences more clearly. The news and media category is a good example because is a top interest therefore it might be a good topic to focus on but since the delta is low, is not very significative.  The music and radio and automotive categories end up providing a much more  relevant topic for the readers because they are top interests and also have a high delta correlation as well.
The music and radio and automotive categories end up providing a much more relevant topic for the readers because they are top interests and also have a high delta correlation as well.
Roialty's OneTarget is able to provide exactly what the readers are looking for and intuitively suggests to publish content on two possible outcomes, The Music and Radio or Automotive Industry.
OneTarget can dive even deeper by providing functionalities that allow a press agency to select not only the topic, but also which public entities should involve the posts!
We'll see influencers for both The Music and Radio and Automotive industries, and then determine which influencer is the most beneficial in engaging our readers.
We can easily scroll through the top followed twitter accounts related to the Music and Radio category account.

Figure 3 Top Followed Twitter Accounts in Music and Radio Category
Lorenzo Jovanotti has a high number of followers and could be a potential match for our content strategy, as you can see in Figure 3.
Figure 4 shows the presence of a bias toward the motorcycle racing world! The top 3 followed accounts are all related to this topic, so Corriere should post something pertaining to this and possibly involve Valentino Rossi to get more exposure and feedback from its readers.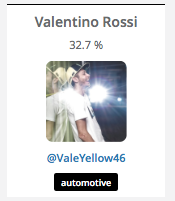 Figure 4: Top Accounts Followed in the Automotive category
We saw first hand how quick and easy it was for a newspaper agency to use Roialty's OneTarget product to plan and publish the most beneficial content. This encourages newspaper agencies to have the largest coverage and network possible for their readers.. In this case study we discovered Corriere della Sera should post contents related to the Music and Radio, as well as the Automotive industry.
These posts could gain extra exposure by involving Lorenzo Jovanotti in posts pertaining to music and radio industry, and Valentino Rossi for any geared toward automotive.
To find out more, visit our website at Roialty OneTarget.