Ready-to-use online data services and alerting for Babycare Marketers built on a 12+ millions audience of social media active moms.
In the last few years, ROIALTY has developed a massive knowledge base that focuses on a Digital Audience of Moms. This unique source of data has been built from facebook, twitter and instagram public interactions made on the social entities of more than 80 international babycare brands. This audience includes specific country views for US, UK, Italy, France, Spain, Portugal and Turkey. This impressive collection of data is now available for babycare marketers through the use of dedicated solutions that highlight the voice, interests and social behaviors of 12M+ social media active Mothers.
OneVoice "Moms" – Listen to moms' conversations and monitor their sentiment
ROIALTY can provide web & social listening of Moms' conversations from July 2014, utilizing integrated live feeds from multiple sources including social media, online media and blogs/forum.
Contents & conversations have been organized in 7 observatories:
Hygiene and Protection
Mealtimes
(Out & About) and Travelling
Toys
Sleeptime and Relaxation
Breastfeeding
Clothing and Shoes
ROIALTY can provide a dedicated semantic analysis profile that selects, tags and analyzes the sentiment on English, Italian, French, Spanish, Portuguese and Turkish languages.
The observatories selected and analyzed over 10M contents, while tracking over 400 social accounts (brands, bloggers and communities) within the babycare context. OneVoice is monitoring over 80 babycare brands (and relative products) such as Mam, Philips Avent, Mattel, Chicco and Fisher Price.
Babycare conversations take place primarily on social media (top sources include: Facebook, Twitter and Instagram), and have already accounted for more than 12M social unique users interacting with bloggers, brands and communities. These unique users currently generated over 14M interactions (likes, comments, shares, retweets, loves, etc.). This giant audience is fully prepared to be analyzed and segmented with Roialty's OneTarget product.
Social analytics for community managers
Babycare solutions include Social Analytics dashboards that analyze performances of specific Facebook Fan Pages, Twitter and Instagram profiles. Here's the current status of our social entities assets for babycare:
200 tracked Facebook Fan Pages
150 tracked Twitter Accounts
60 Instagram Profiles
One Voice social analytics dashboards give insights into fan/followers' growth, engagement performance, most relevant top posts/tweets and most active influencers.
Support the social media competition and provide a real-time view on your community management performance!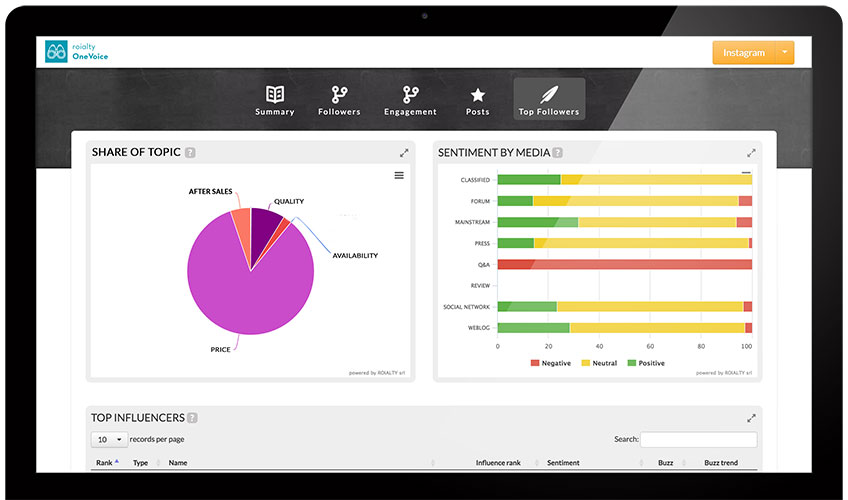 Real-time alerting
Babycare solutions include a Real-Time Alert service for marketers to support crisis and risk management. ROIALTY preconfigured a package of 126 real-time alerts running on all 7 observatories and on all monitored languages. Email notifications provide immediate communication, marketing and customer service responses.
Alerts have been configured in the following areas:
Mention Top Source

: Brand mention identified on top babycare sources

Claim Fan Page

: Critical content on brand owned Fan Page

Claim Competitors' FanPage

: Critical content identified outside the brand's social properties.
OneTarget "Moms" – Audience analysis
With ROIALTY we collected 12M+ social unique users and 14M+ interactions within the babycare observatories. This data asset is a powerful research panel of social media active Moms that can be used for driving digital media planning, clusters discovery, communication, content strategy and product strategy. One Target "Moms" service gives the following relevant information on users selected from our global panel using your own criteria :
Demographic

: Age and Gender

Interests

: Family and Parenting, Pets and Animals, etc. classified on the ROIALTY taxonomy including more than 30 categories and more than 300 subcategories

Influencers

: Top interacted fan pages, resonance

Activities

: Activity timetable, audience activity and top accounts activity

Contents

: Top interacted contents
Roialty's One Target offers a standard ready-to-use "Mother To Be" audience. This Audience was made with a sample of 4000 Facebook users, and were strategically selected using key concepts and keywords referable to future moms.
Check out Roialty Babycare solutions page!