Today, we access our favorite content on-demand often while doing something else such as sharing follows, likes and comments on social media platforms.
Attention is the new gold for brands that want to be relevant for people in an information overloaded-world.
How do brands can be relevant for their audiences in a crowded media market?
In this article, we present the result of the Social Media Audience Analysis realized on an Audiobooks market-leading player like Audible. Thanks to OneTarget the Roialty proprietary solution for audience analysis we studied the @AudibleIt's twitter audience to have a picture of the media market situation.
The audiobooks market is evolving rapidly. In the beginning, audiobooks entered the market as a reading facilitating solution for the elderly and those with visual problems. Hence, according to the American Audio Publishers Association in 2010 the CD audiobooks market share reached 54% in comparison with the 42% of digital downloads.
The landscape has changed nowadays since audiences perceive audiobooks as a complementary way of reading and learning while doing other activities. This change is due to the fact that older people are becoming tech-savvier while streaming services for music and video like Spotify, Amazon, and Netflix are turning into the on-the-go platforms for Millennials and Generation Z.
Follow the Data to know your customers, win their hearts and time is the answer to our question.
Social Big Data Analysis: building the perfect marketing personas
Artificial Intelligence and Social Media Big Data Analysis empower marketers with new tools to advance their strategies. Knowing better your customers is key to the creation of effective marketing personas and new tailored strategies.
Thus, from our social media audience analysis we extracted 4 identikits for the audiobooks market:
Gamer
Active adult
Entrepreneur
Young book passionate
GAMER
Federico is 25 years old and he just graduated. He is passionate about gaming, he loves cinema especially sci-fi and fantasy and he is a Star Wars fan; he is interested in automotive with a focus on motor racing. Additionally, he is a streaming platform heavy user,  interacts with YouTube, listens to podcasts and is devoted to video streaming. Netflix user but open to innovation, indeed he is curious about Prime Video and he is an early adopter of the new Rai Play App.
ACTIVE ADULT
Matteo is 37 years old and he likes traveling, both for work and pleasure. He works in a social media marketing startup and loves his dogs and all animals.  He follows sports news, likes arts and good food. He is interested in leadership and self-improvement and interacts with the latest news and politics.
ENTREPRENEUR
Riccardo is an entrepreneur of 52 years old. He is interested in economy and environment and interacts with news and media accounts, about politics and economic issues. He often travels by train with high-speed services.
YOUNG BOOKS ADDICTED
Sofia is 24 years old. She is a strong reader and stays up to date about book news. Additionally, she is interested in fashion news and follows Italian chefs. She visits art galleries and she is interested in photography. She interacts with the latest political movements.
Why are big data relevant to increase Loyalty?
Data help us to understand changes and metrics to anticipate market trends and gain competitive advantage. Hence, by combining social login and an organic data strategy, brands can understand users' behavior and preferences.
It follows that the insights coming from the social media data audience analysis are crucial for brands to create powerful marketing personas to improve Customer Experience and targeted marketing campaigns as well as improve the overall Customer Satisfaction and Loyalty.
This time we analyzed the @AudibleIt's audience. Next week we will compare it with Spotify's audience and investigate overlapping areas to optimize customer knowledge for cross-selling operations.
In the table below you can get a hint of the insights and features that Roialty OneTarget solution offers for your brand.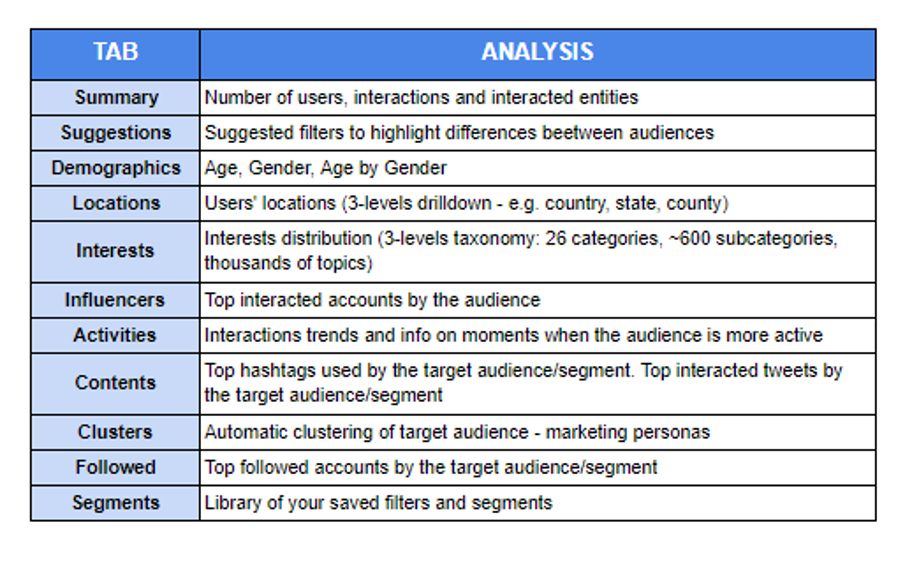 Visit our web site to discover more about our solutions and how to analyze audiences by leveraging the insights of our platform.
Roialty is part of Maps Group.