In 2015, we discussed Influencer Marketing and Real Time Monitoring at events as a new frontier for 2016. Brands want to humanize their communications and Influencer Marketing is becoming one of the most useful tools to leverage the social influence of Real People, Bloggers, and Stars to help integrate their influence into brand communication activities.
People talk about their interests and passions on social networks and often receive important engagement via their personal profiles on social networks. There are several platforms that encourage Influencers to gain rewards or money through their participation in Digital Marketing campaigns. To engage Consumers and Influencers in the communication process is becoming a "must" for brands.
[Tweet "Brands need storytelling and storytelling needs brands."]
People have the opportunity to become an integral part of the semantic process of brand communications. The level of attention has to be high because we are talking about brand reputation, engagement relevance, social presence and sentiment of the conversations. When we talk about the conversations on social networks as something linked to web monitoring we can understand it as a kind of market research: Social Intelligence is a crucial opportunity for brands to track useful insights.
The Top 5 Influencer Marketing platforms 
     1. TRAACKR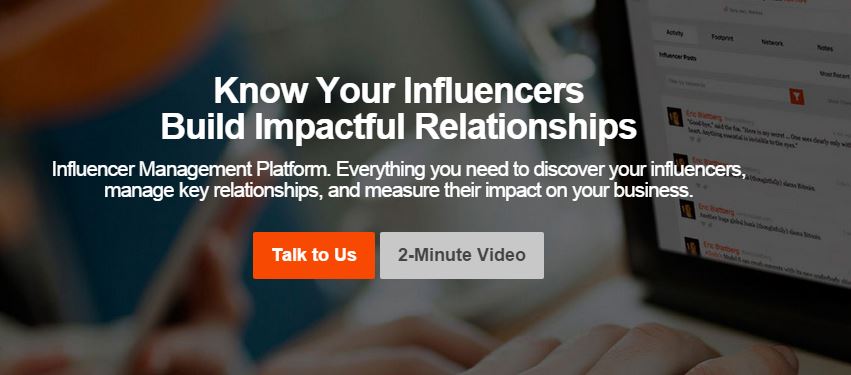 Traackr is an influencer marketing platform that ranks influencers based on 3 influence parameters: Reach, Relevance, and Resonance. The platform focuses on 2 main parts of brand activities: Influencer Marketing platforms and Data Service platforms.
Influencer Marketing Platforms allow to for:
Influencer recruitment through topics, hashtags and geo-localization parameters.
Campaign and Project Creation
Analytics and Reporting Campaigns
Data Services Platforms are added services that are characterised by:
Real Time Listening
Social CRM Management Tools (Ticketing)
2. SPEAKR

Speakr is an Influencer Marketing platform that offers brands a network of more than 20,000 influencers divided into industry sectors.
The platform is divided into Brand sections and Influencer sections. Speakr focuses on influencer profiling through interpreting psychographic and demographic data, as well as understanding social interactions.
The Platform service provides:
Predictive results about Influencers and their activities.
Optimized results in real time: through 4 years of research Speakr predicts the performance campaigns.
A network of 20,000 Speakrs
3. ZOOMPH

Zoomp is a wide platform that has an Influencer Marketing dynamic and also an efficient tracking system based on segmentation and social interactions.
The platform services are divided into 3 areas.
Collection: Search and monitoring of hashtags, topics and conversations.
Analysis: Find and rank the Influencers, track the conversations and create opportunities to embed interesting content onto websites. Geo-targeting to find people in a quick way to customize digital marketing campaigns.
Visualization: Microsite and Social Hub creation that allows for the opportunity to moderate the conversation to tell the most engaging story for the audience.
4. EXPOSELY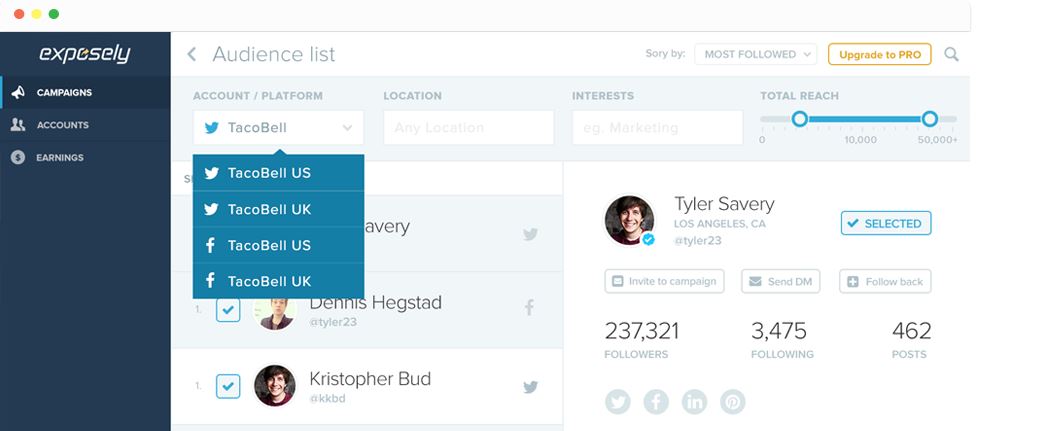 Exposely is a platform of online Social Advertising that connects brands with influencers through specific goals in Digital Marketing campaigns (CPC, CPM, Cost per Conversion).
Divided into 2 sections, the platform is simple and intuitive.
Brands: They can set the budget, find Influencers, and engage those Influencers.
Influencers: They can earn money from their social influence and activities. They can also use professional tools and work in innovative ways.
    5. MAVRCKR

Mavrck is a powerful Influencer Marketing platform characterized by analysis and Influencer Segmentation. It also has a free service of Influencer Analysis for fan pages.
Mavrckr is structured on 3 macro areas:
Identifying Influencers based on location, topic, and social data.
Activating Influencers to create and distribute content and visualization of the Digital Marketing performance in real time.
Influencer Network Automation that allows for the amplification of 'the buzz' among people who are in contact with Influencers specifically chosen by rands.
We believe that the elements of these platforms in Web Monitoring and Social Listening represent the main points for developing deeper insights into Consumers, their activities and behaviors. Web Monitoring and Hashtag Tracking are becoming the most complete methods for creating strategies that are closest to Consumer needs, and Influencer Marketing allows the brands to approach the web from a new perspective.